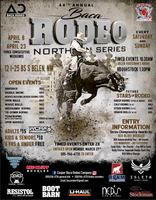 UP COMING EVENTS
Join us for food, vendors, and of course RODEO! The Baca NORTHERN Series is coming to town.
Starts April 8-23rd in Belen NM
Tickets avaliable at the door.
Casper Baca Rodeo Co.
Baca Rodeo Co is a third generation stock contracting rodeo production company of the Baca family. Casper Baca Rodeo Co established in 1976 in the sands of San Fidel NM. Get your hands on a piece of New Mexico rodeo history, with our authentic hand drawn throwback designs.
High Sierra High Rise

Baca Series Belen NM
Razzle Dazzle

Baca Series Belen Nm
34th Bullriding Extraordinaire

Flaming Brand
Extraordinaire 2019

Ethan Johnson..stare down
High Sierra High Rise
Baca Series Belen NM
Razzle Dazzle
Baca Series Belen Nm
34th Bullriding Extraordinaire
Flaming Brand
Extraordinaire 2019
Ethan Johnson..stare down